Columbus, Ohio USA
Return to Homepage www.shortnorth.com
See also Short North Organizations
Useful Links
COLUMBUSUNDERGROUND.COM
Online media resource provides constant updates on local news, events, food, nightlife, shopping, and more. Run by Walker and Anne Evans. Founded in November 2001 as a unique online resource to showcase entertainment, events, and restaurant reviews throughout the city, the site has grown and diversified to encompass a variety of other local topics such as urban development, the independent art scene, in-depth personal interviews, city politics, and more.
www.columbusunderground.com
EXPERIENCE COLUMBUS
VISITOR Information for Columbus, Ohio
www.experiencecolumbus.com
SHORT NORTH ALLIANCE
VISITOR Information for Short North Business/Gallery District in Columbus, Ohio
www.shortnorth.org
GREATER COLUMBUS ARTS COUNCIL
Columbus art: events, organizations, artists
www.columbusmakesart.com
GREATER COLUMBUS CONVENTION CENTER
World-class convention and meeting facility at 400 N. High Street neighboring the Short North
Keep abreast of Convention Crowds/Traffic • Parking garage available to Gallery Hoppers
www.columbusconventions.com
ARENA-DISTRICT.COM
Downtown area includes Nationwide Arena. Adjacent to the Short North.
Site information: Arena events, directions, parking, hotel accommodations, real estate, and more.
www.arena-district.com
NORTH MARKET
Located at 59 Spruce Street, the historic North Market is adjacent to the Short North, Downtown Columbus, and just steps away from the Convention Center.
An unbelievable array of veggies, spices, seafoods, meats, poultry, flowers, and much more. Stop in and shop, enjoy a meal (dining inside and out), live music. Heavenly.
www.northmarket.com
COLUMBUSART.COM
Over 1,300 Central-Ohio Arts, Music and Performance Websites
www.columbusart.com
COLUMBUS NEIGHBORHOODS - SHORT NORTH DOCUMENTARY
The story of one of the city's most vibrant and exciting neighborhoods includes the tale of the arches, the rise—and abrupt fall—of the Columbus Union Station, an incredible reunion of Civil War soldiers, the circus magnate who mesmerized a town, and the emergence of local festivals and traditions that have become a part of the Short North's character. It's a story of how a grassroots movement transforms a run-down, forgotten neighborhood into Columbus' center for arts and culture.
Bonus material include maps, a slideshow of remarkable buildings and a brief description of their history, a Flytown reunion feature, and a video that shows how you can contribute to the Columbus Neighborhoods website.
Purchase the DVD - click on image to transfer to WOSU website: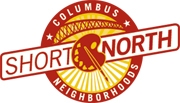 See also Short North Organizations