PO Box 8071, Columbus, OH 43201
Columbus, Ohio USA
Return to Homepage www.shortnorth.com
email info@shortnorth.com

Short North Neighborhood Events/News •JULY/AUGUST 2017

See Bulletin Board for Complete Events Listings

See Also: Community News Archive
See Also: Neighborhood Organizations

Walks and Talks at Goodale Park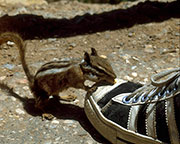 The Friends of Goodale Park launched a Walks and Talks series in 2014 offering presentations by experts on garden-related topics and informative walking tours. This year's program includes a demonstration of plein air painting, introduction to wildlife awareness, vertical gardening techniques, and the ever-popular tree tour to be held in both July and October. Tours begin at 6:30 p.m. with a 30-minute walk followed at 7 p.m. by a 60-minute talk (45-minute presentation followed by questions) in the Caretaker's Residence. The two tree tours will be all-walking tours. Guests are asked to meet at the northwest entrance of the Caretaker's Residence in the center of Goodale Park. All tours and presentations are free and open to the public. Here is the lineup:

July 19: Ohio Wildlife Center Presentation
Ohio Wildlife Center is dedicated to fostering awareness and appreciation for Ohio's native wildlife through rehabilitation, education and wildlife health studies. Their free hospital admits nearly 5,000 animals a year, providing medical treatment to injured, ill or orphaned wildlife with the goal of returning a healthy animal back to the wild. They offer a variety of on-site and outreach programs for groups of all ages. Meet wild animal ambassadors, explore nature and learn how to coexist with native mammals, reptiles and birds. The featured speaker is Stormy Gibson, director of Education.
July 26: Summer Tree Tour
What's the deal with Goodale's trees? Why do the Friends of Goodale Park post about them so much? It's because the park has a great collection of trees that neighbors are really proud of. Want to learn more? Join board member and arborist Rick Frantz as he shares interesting facts: Historical notes, medicinal uses and peculiarities will be noted so there's something for everyone. Frantz graduated from OSU with a degree in Natural Resources, majoring in Urban Forestry, worked in Geographical Information Systems for the City of Dublin and has served as part-time city forester for the City of Powell for the past 10 years. He recently worked with Greenlawn Cemetery to catalog and map over 3,000 trees, creating a user-friendly tree inventory for the organization. Frantz has served as a FGP trustee and volunteer arborist since 2004. In his spare time, he is an avid marathoner.

August 9: Vertical Gardens: A plant craft experience
You will learn Vertical Gardening 101 as well as get your hands dirty with a friend or spouse while you build your own vertical garden frame to take home. It's a four-hand project, so be sure to not come alone (we'll pair folks up if you come alone). Michael Creath owns a landscape design company. But that's about the end of the similarities between his work and that of your typical gardening team. The designer, who graduated from Columbus State Community College in 2006, launched his own business about three years ago after working for a handful of local landscapers. Evident as soon as you enter his studio, succulents are the stars of his show. "I have a fresh take on the plantscape design industry and a lot of creative ideas that people aren't really doing," he says. And it's succulents that give him the creative opportunities he seeks.
October 18: Autumn Tree Tour
There is no better time for trees than the fall. Okay, maybe when the magnolias are in bloom, that's better, but autumn is a solid second. Board member and arborist Rick Frantz is back with a brand-new tree tour filled with fall and folklore.
www.goodalepark.org

Concert in the Garden with the Shazzbots

Families are invited to a free outdoor concert featuring the kid-friendly band The Shazzbots at the Godman Guild community garden, 303 E. Sixth Ave. on Saturday, August 12 from 10:30 a.m. to 1 p.m. Come and listen to them sing "Milkshake," "Button Pushin'," "Space Captain," and many other hits. While at the concert, free vision checks for children will be provided by the Lower Lights Christian Health Center. Register by calling 614-294-5476, Ext. 158 or email StandUp2017@godmanguild.org This event is part of the Godman Guild's StandUp 2017 campaign. It's designed to invite community participation. www.facebook.com/godmanguild/

Citywide Art Walks and Landmark Talks
The fifth year of Art Walks and Landmark Talks, a collaboration of the Landmarks Foundation and Columbus Public Health offers FREE hour-long tours led by expert historians and guides exploring the art, history and architecture of Columbus neighborhoods. Art Walks are offered on scheduled Mondays from 7 to 8 p.m. Rain dates are the following Sundays at 7 p.m.

July 10: Discovery District (Jefferson Ctr/ Thurber House), 77 Jefferson Ave; July 17: University District (King Ave Methodist Church), 299 King Ave; July 24: Capitol Square (St. Joseph's Cathedral), 212 E Broad St; July 31: Brewery District (King Gambrinus statue), 601 S Front St; August 7: Near East (Columbus Public Health), 240 Parsons Ave; August 14: Short North (Goodale Park Elephant Fountain), 120 Goodale Blvd
Coming Fall 2017, four new Culture Walks will explore the spirit of some of Columbus' most historic neighborhoods through the experiences and stories of residents both past and present. More details to come. www.columbuslandmarks.org

End of Summer Sale
Short North businesses will be participating in an End-of-Summer Sale beginning with a sidewalk sale from Noon to 6 p.m. on Saturday, August 12, followed
by in-store sales throughout the following week until Sunday, August 20. The sale is an annual event when merchants sell the remainder of their summer products. It's an opportunity that any thrifty shopper would not want to miss. Put on your walking shoes, have lunch, stop for a sweet treat and coffee and get some great bargains. Visit the Short North Alliance website www.shortnorth.org to learn more.
Return to Homepage www.shortnorth.com
©2017 Short North Gazette, Columbus, Ohio. All rights reserved.