Photo of Stephen Weed by Rick Borgia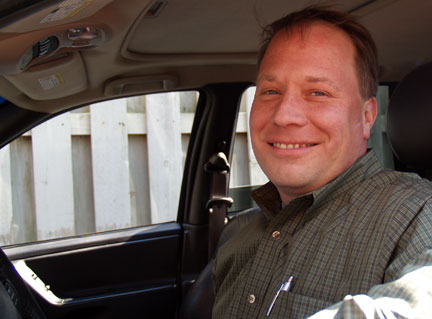 It's difficult to tell what Stephen Weed enjoys more: the Short North area, or serving the Short North area. A Columbus native and Victorian Village resident, Weed has served the community in many ways for nearly a decade, and has just been appointed president of the Short North Neighborhood Foundation. His ambitious plan for his presidency – to bring all of the Short North neighborhood organizations to the same table under the auspices of the SNNF – stems from Weed's lengthy past as a team leader and bridge builder. And some Short North residents and business owners are eager to see what he does.
Weed says his interest in community service stems from his early education at St. Joseph's Montessori School. From kindergarten through seventh grade, the school's open classroom setting gave him a world in microcosm in which to learn according to his own direction.
"As a student, you realize that what you're going to learn is what you put into it and your own inquisitiveness is what will carry you through," Weed said. "I have always supported those tenets. The responsibility for learning is squarely on the children's shoulders. That translates in my later life into everything that I've done."
Weed attended St. Charles Preparatory School, where his initiative led him to form the school's cross-country team. He served as the team's manager and captain during his four years at the school.
Weed graduated from the University of Texas-Austin, earned a master's degree at the University of Pittsburgh and lived in San Francisco for seven years before returning to Columbus in 1998.
He helped organize the 2001 Victorian Village Home and Garden Tour and was among a handful of Short North area residents to step up to the plate that year when the retirement of many of the tour's past organizers had placed the tour in jeopardy. Weed served on subsequent tour projects in various capacities, and served as tour chair in 2004.
Under Weed's supervision, Joe Spinelli and other tour leaders changed the financial structure of the Home and Garden Tour from one based solely on in-kind donations of services to one that generates cash revenue. Spinelli says the tour doubled its revenue after implementing this plan under Weed's chairmanship.
Weed says his service for the Victorian Village Home and Garden Tour generated momentum for his service with other Short North organizations, including the Short North Neighborhood Foundation.
"What I found there was a real love for volunteering and helping, particularly in this community," Weed said. "I found I really enjoyed working with people in Harrison West and Italian Village and with the Short North Business Association. It was a logical jump from working with the community on the Victorian Village tours to working with the SNNF, which works to collaborate with all of those neighborhoods."
Weed was invited to join the SNNF board in 2005 and became its vice president, a position he occupied until his recent nomination as president, less than a year later.
As SNNF president, Weed says he will aim to bring the foundation back to its original purpose: to bring together all of the Short North area neighborhood organizations and empower them to work together to effect changes that will enhance the entire area.
"The Neighborhood Foundation is really founded on the ideals of the Columbus Foundation, where a neighborhood foundation can be the institution in the Short North neighborhood district where people can donate money to make sure the Short North neighborhood can continue to be vibrant and diverse," Weed said. "If I could only do one thing this year, it would be positioning the (Short North) Neighborhood Foundation that way, to sustain the growth and diversity of the neighborhood over the long term."
Weed hopes that the SNNF's new granting program will help define the foundation once again as an all-Short North organization.
"As the SNNF is giving away some of its first grants this summer, there's a very nice opportunity to coordinate with a number of the organizations in the Short North neighborhoods to try to make an impact in the neighborhoods and along the High Street corridor. We're hoping we can leverage these initial grants for a high-impact project in the Short North, something that has high visibility and high impact for everybody who lives in the neighborhood," Weed said.
"With Stephen (as SNNF President) hopefully we will be able to collaborate more together to streamline the organization," said Spinelli, who is currently president of the Short North Business Association. "There are a lot of organizations in the area vying for money. Stephen will try to bring all the organizations together, prioritize what all the organizations need, and try to work together, rather than each of us going to the same donors asking for money. He's a peacemaker, a bridge builder. I'm really excited about his leadership."
Weed says he will also work to enable the SNNF to create a Short North neighborhood network that will focus on dialogue and action on cross-neighborhood issues. As SNNF president, Weed says he will oversee the formation of a neighborhood safety watch committee to give area residents and business owners a forum in which to discuss community safety issues.
"The purpose of the safety committee is to bring SNBA owners to the table with Harrison West, Italian Village and Victorian Village and to take that issue and create a place where we formulate strategies for the safety of the Short North neighborhoods," Weed said.
Weed also will supervise the SNNF's fundraising efforts for two new pocket parks in the Short North. The foundation has raised nearly $500,000 in pledges, cash contributions and in-kind donations to bring about parks at High and Buttles and on Lincoln Alley. The SNNF will continue to partner with the Short North Special Improvements District to create the parks once enough funds have been raised.
Weed has taken his community service beyond the Short North as a member of the board of the Friends of WOSU. He says he envisions a vibrant collaboration between WOSU Public Media and Columbus' historic neighborhoods.
"The stations do great work in our communities around education programming. My approach with them has been to begin to work with the historic neighborhoods of Columbus – Old Towne (East), the Discovery District, German Village – to reach out to these communities to build not only an audience, but to explore the rich history of Columbus. Building a base of audience and membership in the historic neighborhoods, I think, is a priority, because I think it's a natural audience for WOSU."
Weed serves on the Friends of WOSU board with his mother, Susan Scherer, with whom he also runs the organizational consulting firm Relational Care Associates. The mother-son pair use the Myers-Briggs Type Inventory as a basis for developing team-building strategies in small organizations.
Weed also collaborates with Scherer for the Susan Scherer Charitible Foundation, founded in 1999 with the aim of giving small grants to help non-profit organizations realize projects.
Scherer says she and her son complement each other as business associates and fellow community servants.
"One of the things that's really significant is that it's a team of equals," Scherer said. "He does the aspects he likes and I do the aspects I like. It's true with Relational Care, it's true with the (Friends of WOSU) board. There's never any fuss over who's going to be the lead. I think it's very unusual. Some longtime friends react over the mother-son being able to work together like this."
The son of the late professional athlete and sports product inventor Thurlow "Tad" Weed, Weed says he feels his father's influence in almost everything he does.
"Dad clearly did a lot of really interesting and amazing things. Living not necessarily in the shadow of that, I think it gave my brother (Michael) and me a high set of expectations of what can be done if you put yourself out there. I think that's the greatest influence that dad's had on me," Weed said.
When he's not working or volunteering, Weed says he's supporting his golf habit through the Rainbow Golf League, one of fewer than 10 gay and lesbian golf leagues in the country. His passion for running has also lived on, though Weed says things have changed since his days on the St. Charles cross-country team.
"It's more glorified walking, but I do it anyway," Weed said.
Still, this pastime gives Weed a chance to see the neighborhood he has helped to create, and which he hopes to bring together as SNNF president.
"I just jog around the neighborhood here in the Short North. It's reinforcement to see how pretty and beautiful this neighborhood is."