The EcoBike retails at about $1,500 fully loaded. The advantages it has over a moped are that it is silent,
fume-free, and frankly very classy. It also allows for some exercise.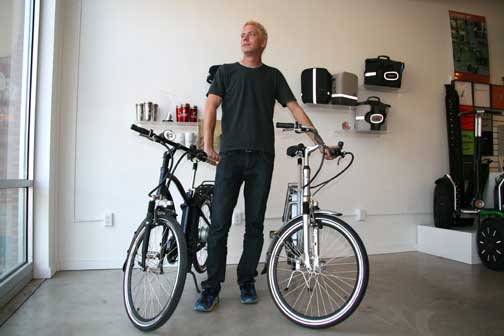 The Segway Store on High Street in the Short North has always been a bit of a puzzlement to me, as has the whole Segway phenomenon. Don't get me wrong, the Segway is a marvelous, almost magical contraption, but who wants to travel standing up? Some folks maybe, not me. So I was delighted to find that the Segway Store now sells bicycles as well – not just any bicycle, but French designed, electric-assisted machines under the brand name EcoBike.

Now, before all you pedal purists out there in Gazetteland get all afoam with righteous indignation over the encroachment of motorized vehicles onto your virgin bike turf, let me explain: the EcoBike is not an electric scooter (this is why I use the term 'electric assisted'). Rather, it's a fully functional bicycle that can be pedaled entirely without the use of its motor. In fact, if you remove the ten-pound rechargeable battery (a simple, tool-free task) you would have a serviceable, if beefy, commuter bike.

Anyway, I visited Jared Cavalier at the Segway Store on a bright spring afternoon. Jared is a lanky, handsome young dude who is the proprietor and seems to work the shop by himself (along with a blessedly indifferent huge black dog). He had plenty of Segways on the floor, but only two EcoBikes – apparently they've been moving out at a brisk pace.

The first thing I noticed about the EcoBike is its blatant good looks; the French don't screw around when it comes to design. Of course every bike is beautiful – each a tour de force of minimalism (if that's not too much of an oxymoron) – but the EcoBike is truly arresting. Of the models offered, I chose the Elegance to test ride: This is the standard commuter model. Sporting a brushed aluminum finish, it is properly outfitted with lights, fenders, chain guard, a sturdy rear rack – the works! The battery pack is tucked inconspicuously between the seat post and the rear wheel. The result is to lengthen the wheel base a bit, but I've always favored long wheelbases as they tend to facilitate greater ride stability. The electric motor itself is located inside the oversized rear hub.

I started my ride with the motor turned off. The bike performed fine and the broad range of derailleur gears helped me scale hills that would otherwise have been a little tough with this heavy machine. As I engaged the motor the bike seemed to take on a life of its own. I must admit I was a bit confused at first. It took some time to get used to the mix of pedal power and electricity. And while I tried to blend these inputs as much as possible, there were periods when I simply let the motor do all the work. And work it did! I figure that at maximum electric acceleration, this baby will do 18 to 20 mph – a little too fast for a commuter bike under most circumstances, but the hand-operated accelerator allowed easy speed modulation. All in all, my test ride was most exhilarating.

The EcoBike retails at about $1,500 fully loaded – the price of a mid-range moped. The advantages it has over a moped are that it is silent, fume-free, and frankly very classy. It also allows for some exercise. Maintenance shouldn't be a problem. While Jared was a bit iffy about his ability to service the EcoBike (where bicycles are concerned Jared seems long on enthusiasm but short on knowledge) this machine is made mostly of bicycle parts and could easily be repaired by any bike mechanic. Also, modern electric motors seldom need servicing, and the battery is a removable plug-in.

If I seem impressed by the EcoBike it's because I am. This is a comfortable machine, ideal for older folks or individuals who have physical limitations that would prevent them from cycling at full steam. Riders with long or difficult commutes might also benefit from owning an EcoBike. There are, however, a couple of cautionary notes (1) the bike will go about 20 miles on a charge, so if you are planning to tour, be prepared to do a fair amount of pedaling, and (2) keep your speed in check; motorists, pedestrians and other cyclists will think you're on a regular bicycle and will presume your speed to be between 10 and 12 mph. On crowded city streets it would be safer to maintain such speeds. You can gun it on wide-open roadways.

You can check-out the EcoBike at the Segway store located at 765 N. High Street. Jared will be happy to assist you. As for the Segway itself, I'm not at all convinced that this odd device will do much to solve the urban transportation dilemma. On the other hand, Jared's comment that "Anything is fine as long as it gets another car off the streets" makes perfect sense to me.
Editors Note: Shop relocated November 2010 to 1189 N. High St. adding Revolution Cycles to the business.
Call Segway or Revolution Cycles at (614) 299-1100 or visit online at www.segwayofohio.net Hours 11a-7p. www.revolcycles.com