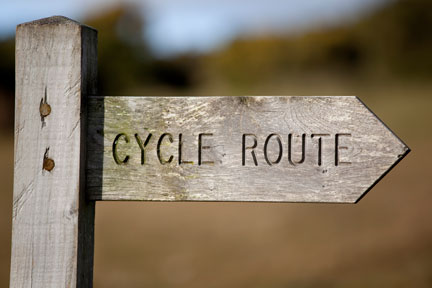 Now that your plans to summer in sunny Tuscany have been deep-sixed by the gathering economic storm, it's time to start thinking about a vacation that's both invigorating and economical – one taken astride your faithful metal steed, a bike tour!

Bicycle touring is a great way to see an America that still exists somewhere beyond the beltways and Walmarts, out where the growl of the interstate can be heard but faintly and precious small towns sport main streets with general stores and mom and pop bars – main streets yet unblemished by the stink of yuppie carpetbaggers intent on escaping the suburban hell they themselves conspired to create. Yes, such wonderful places do exist; I've seen them…on my bike.

In an odd way, the interstate highway system has worked to preserve much of rural and small town America by creating a patchwork paradise of small farms and villages in the oft-forgotten hinterlands betwixt the dreadful concrete ribbons – areas too small or unimportant to rate their own interstate exits, but replete with small roads of their own, still serviceable and rendered sparsely traveled (save locals) by the endless NASCAR madness of the four-lane. Add to this a growing system of bike trails, and you have a perfect venue for bike touring right in your own back yard.

There are three main types of bicycle touring: supported touring, inn touring (aka credit card touring) and fully loaded touring.

Supported tours are great for beginners and families, but many seasoned cyclists attend these events as well. Some supported tours are rather arduous, but most offer easy rides of 50 miles or so a day. These tours are generally a week in length, often featuring a mid-week free day at a particularly interesting location. The key advantage of a supported tour is that you don't need to carry your own baggage. Trucks carry your belongings – usually camping gear, clothing, etc. – from one camp site to the next. When you arrive at your destination at the end of a day's ride, your gear is waiting for you. Typically, meals and snack breaks are included in the tour package. Routes are planned in advance to include safe rides passing interesting sites and through out-of-the-way towns. Sag trucks (repair trucks) patrol the route, so that if your bicycle breaks down it can be fixed on the spot. Supported tours are generally inexpensive as vacations go (though there are pricy B&B versions as well) and are great fun. The participants are always a varied lot, from novices pumping old Schwinn ten-speeds, to families with tots in trailers, to buff yuppie couples in lycra cycling outfits riding the latest carbon-fiber racing frames. Great Stuff!

At the opposite end of the spectrum is loaded touring (no, alcohol is not involved). On this type of tour you will carry everything with you: camp gear, clothing, repair tools, water, food – the works. All items will need to be bicycle specific: that is, super light and compact. You'll need a touring bicycle (more on that later) with lots of frame bosses for racks, panniers, extra water bottles, lights, cycle computer and the like. Loaded touring involves camping virtually every night, so, as campgrounds are often few and far between in this country, you'll need to improvise as to camp locations more often than not. Farmer's fields, state forests (where permitted) and empty lots on the outskirts of small towns are options. Be sure to get permission to camp on private property and offer the owner a twenty. Some loaded tours are sponsored, but most are organized ad-hoc by the participants. Oddly, many a loaded tourist can be spotted traveling solo – not a good idea! Bicycle touring should always include at least two riders. Obviously, loaded touring is for the hard core; those not having ample cycling experience, legs of steel and a BMI of 23 or less need not apply.

My favorite type of touring, though, is inn touring or credit card touring (as it is usually referred to these days). Preparing for a credit card tour is easy. Simply round up a friend or two, map out a general itinerary and hit the road. Your bike will need a rear rack with a set of panniers to carry clothing and basic repair and first aid kits. A pump and water bottle will be needed as well as a map. And wear a belly bag to carry snacks, sun shades and a cell phone. This may seem like a lot of stuff, but compared to loaded touring you'll be traveling light. The advantage of credit card touring is that you're master of your own journey, traveling as far or as little as you like. The only requirement is to end the day at a location that has a motel, hotel or B&B. You may think that pulling up to an inn on a bike will look a little strange, but innkeepers are used to cyclists by now and welcome them. This wasn't so when I took my first tour in the summer of '73: there were many raised eyebrows at the Raceway Motel in Charles Town, West Virginia, when I pulled my Nishiki International touring bike straight into my room. The folks at that establishment must have thought I was some kind of nut – an eastern hippy no doubt. But they treated me well enough and have probably bedded many a cyclist since then. You greenies might object to staying the night in a motel – too plastic and sterile. But, believe me, after a full day of pedal pumping in the great outdoors, you'll be delighted to take a warm shower in a air conditioned room and pass out on clean white sheets.

Now a word or two about your bicycle: You will need a derailleur equipped road machine rather than a commuter bike. Toe clips or straps will greatly increase pedaling efficiency, and strong 90 lb psi cross tires (700cc x 28cc to 38cc) will give you the best combination of durability and speed. If you plan to do a lot of touring – this is a pastime that's easy to fall in love with – you will want to invest in a touring bicycle. Such bikes are sturdy, sleek machines with wide-range gearing, long wheelbases to facilitate stability and gear storage, and plenty of frame bosses for racks and attachments. They are often made of an esoteric steel-chrome alloy (thought to afford greater comfort), but aluminum frames are becoming popular as well. Prices for touring bikes start at around $800. Cannondale and Jamis make great tourers and can be checked out on the Web. Tandems make terrific touring bikes for couples. In fact, most tandems are used exclusively for touring. Burley makes an affordable model that will serve well, but the Santana is the Rolls Royce of touring tandems. It should be – at four grand and change!

Remember that two or more days of long riding is hard work, so get in shape well before you tour, and have your bicycle checked out by a mechanic. Power Bars and frequent pulls on your water bottle will usually prevent you from 'hitting the wall' in mid-ride. Take plenty of breaks and walk your bike up steep hills if you need to. Walking is a great change of pace on a bike tour and still keeps you moving in the right direction. Enjoy yourself but be careful. You will find that there's a sense of freedom and adventure imparted by bicycle touring that's as hard to describe as it is to match. So saddle up and take to the wide open road!
© 2009 Short North Gazette, Columbus, Ohio. all rights reserved