Beautiful Ohio, by Lynda McClanahan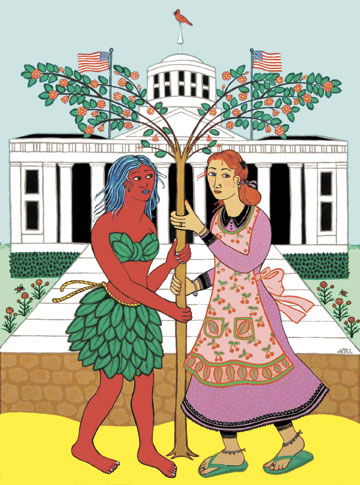 Lynda McClanahan's paintings are celebratory of life and its many ups and downs. Her current exhibit at the Jung Association Gallery is a colorful reverie of paintings that speak to issues of spirituality, dreams, mythology and nature. Throughout her works there is a strong presence of the feminine in all its avatars – goddess, angel, mother, daughter, friend, and teacher.
On the surface McClanahan's works are colorful and approximate some of the language of comic books – she uses bright colors, bold outlines (often in black) and she flattens planes and space to create works that exude a pop culture aesthetic like the works of Roy Lichtenstein or Andy Warhol.
Underneath that kaleidoscopic veneer, the subtext of the art is layered and sometimes enigmatic.
Every painting has a story to tell, sometimes very personal (as in the dream imagery) and sometimes archetypal (as seen in the works portraying goddesses, spirits and Mother Nature). The narratives,
although important, never get in the way of enjoying the aesthetic exuberance in McClanahan's art.
The show is littered with bright canvases; They are moody and moving, poetic and powerful.
In
Circle of Prayer
, McClanahan paints a group of women she knows intimately. She has spent a long time with her prayer group, and in this painting she celebrates those bonds. One of these women, who recently passed away, is depicted as an angel in the clouds, looking down on the prayer circle, cheering them on.
Beautiful
Ohio
shows us two women holding onto a young tree growing on the grounds outside the Ohio State Capital. One is dressed in an apron, the other in a costume made of leaves. The former is archetypal of female domesticity while the latter is emblematic of someone more free spirited, living as one with nature. One could look at the image as two alter egos of the same person or. Or one could interpret the image as the domestic female looking in a mirror and seeing a reflection of the woman she would rather be.
This narrative of women confined by domestic tedium seeking some sort of liberation from the ennui is palpable in several other works. In
Flying
Woman
, the apron-wearing subject is flying through the night over some fields and water. Here, the mother/housewife/caretaker literally dreams of flying free. Yet even in her dreams, she cannot seem to shake off her apron; the strings that tie her to her nurturing roles in life are irremovable.
Ohio
Red
Woman
is a gorgeous work in which a red-skinned woman is depicted as a goddess with references to the images of Shakti from Hindu mythology. Co-existing in her long, lush tresses are a menagerie of creatures: snakes, fish, birds, bugs. This work exhibits McClanahan's brilliant use of color to tell a vivid story.
There are works like
Serenading
the
Rooster
that exude a folksy charm that is part Grandma Moses part Norman Rockwell. Here a woman (in an apron yet again) entertains a large, magnificently colored rooster by playing her guitar and singing. The bird's outstretched neck seems to suggest that he is singing along. It is a quirky image, full of humor and color that embodies many elements of the rich tradition of American folk art.
Many works have influences from Indian devotional art (celebrating Hindu deities and spirituality) and Islamic art. Many of the lines on faces and hands echo the lines from India portraiture and figurative art. From Islamic art, McClanahan borrows the elements of detailed patterning and other decorative elements.
Dancing with the Monkey
and
Beautiful Ohio
, both exemplify this East-meets-West aesthetic.
References to Ohio emerge in many of the paintings.
Blue Herron with Catfish
is a large canvas overflowing with symbolism and the surreal. An aerial view of downtown Columbus (by the river) on a bright sunny day is used as a backdrop for McClanahan's celebration of the city. She litters downtown with things that are actually there (the LeVeque Tower) and new-fangled structures she wishes were there (a shrine to Mother Mary). The image hints at the struggle between Mother Nature and urban living, giving this otherwise sunny image a thoughtful disposition.
This show is a perfect fit for the Jung Association Gallery since so much of McClanahan's storytelling penetrates deep into the world of human psychology and dreams. And yet, there is joie de vivre to her aesthetic that needs to see the light of other more mainstream galleries as well.
© 2009 Short North Gazette. All rights reserved.