WELCOME
Welcome to one of the fun spots of the U.S.
Right here in Columbus, Ohio!
Contact/Press Release Information

ADVERTISE • Paper Drops

STORES/GALLERIES DIRECTORY
Business/Galleries: A-Z List
Closed/Moved Archive: A-Z List

DINING DIRECTORY
Dining List

ARTICLE ARCHIVE
Regular columns listed below
Archive of Feature Stories
LINKS
Useful
January/February 2018 Issue
(Small Stuff) CURRENT ISSUE
Dis N Data Editor
Events List & Classified Ads
Art Shows
Neighborhood News/Events (Select Writeups)
I Can't Believe You Said That! (Jokes)
Letters to the Editor
Cartoons
Poems/Haiku
CURRENT ARTICLES
Women at the Greystone
Three female entrepreneurs take a leap
and follow their hearts, by Karen Edwards

Dis 'N' Data
Openings: LIT Life + Yoga, Fuzzy's Taco Shop, Roaming Goat Coffee Co., Branch Bourbon Bar Departures: Second Sole, Level Dining Lounge, Park Street Patio, Park Street Saloon, Social Room, Short North Deli, Caffe Apropos, Three Dog Bakery
Coming Attractions: White Castle, Orangetheory Fitness, Harvey & Ed's, Pillar Technology, Babalu Tapas & Tacos, BrewDog Bar, Serendipity Labs, Belgian Iron Wafel Co., And Juice Co., 160over90, DGD Group, Thread
Neighborhood News/Events (Select Writeups)
Hubbard Lantern Festival, St. Francis Mardi Gras Pasta Event, Mantra Percussion at Short North Stage, ComFest Grants, Applications, and Meeting Dates; High Street Streetscape Improvements, Wheeler Dog Park closed
Letters to Editor and Letter to Joel Knepp
LIT Life + Yoga in Italian Village
by Joel Knepp
Art at the Arnold
Fine Art Competition Highlights Athletic Aesthetic
by Margaret Marten
Urban Philosophy: The Very Idea
by Eric Anderson
Restaurant Review: Basi Italia
by Jan and Ralph Rosenfield
Gina Peacock Steps Down as Director
C.G. Jung Association of Central Ohio
by Margaret Marten
The Stone Boudoir, by Theresa Maggio
reviewed by Christine Hayes
An Age-Friendly Short North
by Councilman Michael Stinziano
Victoria Moseley (1929-2017)
Friend to countless neighbors in need

Dorothy (Knight) Wilkie (1926-2017)
Church, children, and pie-making prized
Friends of Goodale Park Gala Photos
by Gus Brunsman III p. 8 and p. 9
Lost Restaurants Book Signing Photos
by Gus Brunsman III p. 25
Aging and Tacos
humor by Eric Broder
Italian Village Society
Complete Streets Implementing Committee
October, November 2017 Meeting Minutes
Thurber Connection
Literary and Artistic Star Rising
by Tom Thomson
Regular Columns
See also "Columnist Archive" listed lower

Eric Broder (Humor)

Christine Hayes

Joel Knepp
Thurber Connection (Series)

Tom Thomson essays
Features Archive
Feature Stories Index

Cover Story Archive
Cover Story Archives
Check out these cover stories from past issues
Miscelllaneous
A-Z DIRECTORY
Listing by subject of Short North offerings
DINING LIST
Complete Short North restaurant list links
HOME BUYER'S GUIDE
Directory of our real estate advertisers/friends
LETTERS
Selection of correspondence published in the Gazette
MEMORIALS
Remembering those who've come and gone
GALLERY HOP
An attempt to define the magic of this wonderful event.
LODGING
Places to stay in and around the Short North
NEIGHBORHOOD ORGANIZATIONS
Folks who go the extra mile to make this neighborhood unique
DOO DAH PARADE
Your pass to a whacky world of political/social satire
Columnist Archive
See also "regular columns" listed above
Clinton J. Buhler (Art Reviews) [2011 - 2012]
Community News Archive

Pedal Pusher (cyclist column) (Greg Knepp) [2007 - 2010]

Tom's Corner
Publisher emeritus talks about this and that and fairly frequently blasts some hapless person or institution out of the water

Fritz the Nite Owl [1999-2009]
Fritz Peerenboom, aka Fritz the Nite Owl, broadcasts some of the coolest jazz

Jared Gardner (Pop Renaissance) [2009 - 2011]

Betty Garrett Deeds

Elizabeth Ann James
Art news - in the Short North -and all around the town

Karen Edwards
In the Wings - A look at the theatre scene in Columbus [2005]

Thurber Connection
Series on one of Columbus' most famous native sons

Legendary Tales
Fancy-free meanderings by Tom Thomson

C.B. Findlay's Dining Notes Archive [2003-2005]
Kaizaad Kotwal Film Archive
Film Review Archive: Kaizaad Kotwal [2000-2003]
Kaizaad Kotwal (Art, Features)
Kotwal Comment Archive
Straight Talk Archive : Kaizaad Kotwal [2000-2003]

Comic Strip (Matt Wyatt) the heebie-jeebies? Go to :
Sex Quotes of the Rich and Famous
. . Pithy remarks on the foibles and follies of the human condition from the mouths of such icons as Gloria Steinem, Jayne Mansfield, Groucho Marx, Jay Leno, Lucille Ball, Shelly Winters, Errol Flynn, Woody Allen, Albert Einstein, Zsa Zsa Gabor, Victor Hugo, Norman Mailer, Mae West, Joe Louis, Madonna, Elizabeth Taylor, Joan Rivers, Anais Nin, and hundreds of others!

Sam's Poetry Tree
Some coooool stuff here
The Memoirs of Tom's war years
Go to Searching for the U.S.S. LSM 245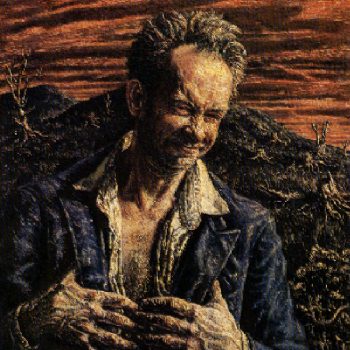 "Hey, if you're not doing anything else, come visit one of my web pages. I'm not amongst the living anymore, but what the heck, we'll probably get along. Just click on my gallery or my letters, or what Thomson wrote about me. Ain't these computers somethin!"
Emerson Burkhart
He was one cool artist.

More Burkhart Stuff
DORAL CHENOWETH, aka The Grumpy Gourmet, knew Burkhart
and wrote a play about him. The script came from some six hours of tape recordings produced between 1956 and 1966. The Chenoweth tapes and script provide you with an artistic view of a great American painter.
Doral's website includes photos, the play, and more
http://emersonburkhart-theplay.com

Go back to start
© 2017 Short North Gazette, Columbus, Ohio
All rights reserved
Women at the Greystone
by Karen Edwards





Late night Gallery Hop
© Photo | Gus Brunsman III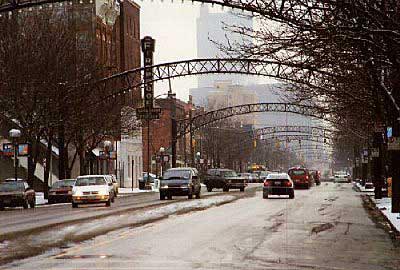 Seventeen arches now span High Street from
the Convention Center to just north of Fifth Avenue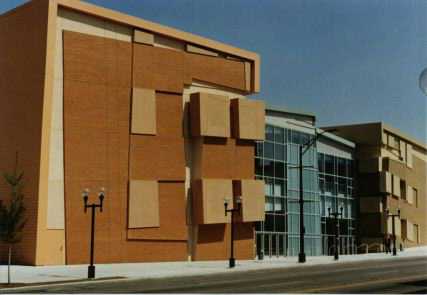 We're just north of the Greater Columbus Convention Center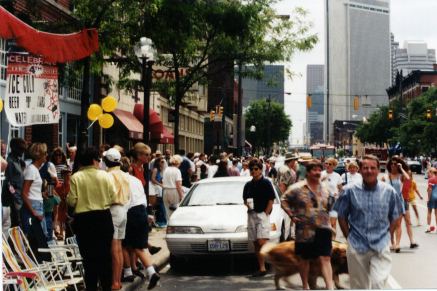 Doo Dah parades draw big crowds.
COLUMBUS NEIGHBORHOODS - SHORT NORTH DOCUMENTARY

The story of one of the city's most vibrant and exciting neighborhoods includes the tale of the arches, the rise—and abrupt fall—of the Columbus Union Station, an incredible reunion of Civil War soldiers, the circus magnate who mesmerized a town, and the emergence of local festivals and traditions that have become a part of the Short North's character. It's a story of how a grassroots movement transforms a run-down, forgotten neighborhood into Columbus' center for arts and culture.

Bonus material include maps, a slideshow of remarkable buildings and a brief description of their history, a Flytown reunion feature, and a video that shows how you can contribute to the Columbus Neighborhoods website.

Purchase the WOSU DVD $19.95 • Click image to transfer to the WOSU website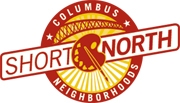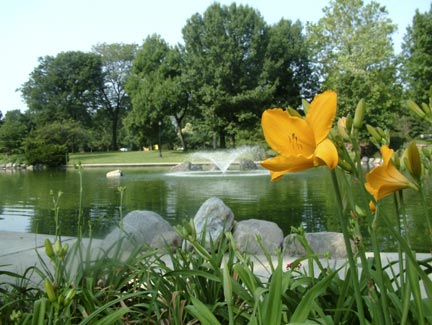 Beautiful Goodale Park is a Short North treasure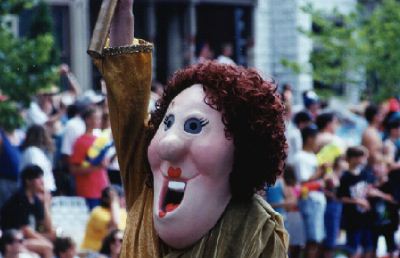 There's no place like the Short North!

If you are a visitor and need information, try the Short North Arts District website
http://www.shortnorth.org
or send the Short North Alliance an email at info@shortnorth.org
or call the SNA at 614-299-8050
or please contact us! Even if you live in Columbus,
and want to know something about the fabulous
Short North, call us at 614-251-0656
Write: PO Box 8071, Columbus OH 43201
e-mail: info@shortnorth.com

And pick up a Gazette!